Monday 16 March 2015 at 06:34 am.
The article appeared in the January 2011 Newsletter of the Texas Wendish Heritage Society of Serbin, Texas. (www.texaswendish.org)
While Wendish farmers in Europe lived in little villages and walked to their fields, Wends in Texas built houses on the lands they cultivated. As long as the farms were located near the Serbin church, traveling to worship services on Sunday or getting the children to school was not a serious problem. However, as the Wendish community grew in size and the distance to church increased, transporting the children to school became a burden.
Not all Wends bought land in the Delaplain League and already in 1862 Karl Teinert purchased land about five miles south of Serbin, on Pin Oak Creek. Other families such as Krakosky, Kunze, Domaschke, Buettner and Herbrig, throughout the 1860s, also obtained land in the general region of the Lee and Fayette county line. Five miles to school and five miles back on foot was more than an inconvenience so on November 12, 1872, Karl Teinert addressed the congregational assembly at Serbin and asked for the establishment of a branch school in their neighborhood. Teinert had been a leader of the Wendish Lutherans in Europe and served Kilian's congregations as the organist and cantor. His influence, however, had declined and in order to get a school he and his neighbors realized that it was necessary to establish a church. The church would be called Kreuz Kirche (Holy Cross) and on May 17, 1873, eight families organized a new congregation and called Andrew Schmidt from Louis Settlement (Swiss Alp) to be their pastor. Pastor Schmidt accepted their call. It seemed like a perfect situation because Schmidt was a Wend who was a member of the Missouri Synod and had been installed into the Swiss Alp parish by Pastor Kilian. He would teach school and could preach in both German and Wendish.
The creation of a new congregation went smoothly at first but a problem arose when the new congregation began implementing the process of affiliating with the Missouri Synod. Earlier they had been members of Serbin's St. Paul or St. Peter, and those two congregations were members of the Missouri Synod. However, a practice in the synod called for peaceful arrangement between congregations, and the two Serbin congregations were not pleased with the new congregation. They needed the members and believed that the Kreuz Kirche people could travel to Serbin. As a result no members received their releases from the Serbin churches and Pastor Schmidt could not be installed in a congregation that was not a Missouri Synod church. Kreuz Kirche faced the choice of either closing the church or affiliating with another Lutheran synod. They chose another synod, and for the next five years the congregation was served by German-speaking pastors of the Texas Synod. During this time negotiations between Kreuz Kirche and the Serbin congregations continued and in 1879 the transfer of members was made and Kreuz Kirche joined the Missouri Synod.
The specific location for the church and cemetery was on Pin Oak Creek. Pastor Kilian referred to the location as New Start, but other sources refer to it as Neustadt or New Town. In addition to the church, the little settlement had a store, a cotton gin and a sawmill. Nine years later, in 1882, the congregation relocated two-and-a-half miles away to its present location in Warda. No buildings remain at New Start, but the old cemetery still exists and marks the first site. This cemetery is notable because one of the tombstones has an inscription in Wendish. Warda was a better location than New Start in that it was near Rabbs Creek, with its more fertile soil, and had easy access to a better road. The move also was beneficial because it increased the distance from Serbin thereby making it less competitive.
While Karl Teinert was significant in the initial Kreuz Kirche, Andreas Ernst Falke was an important person in the second church and also in the Warda community. He had served in the Confederate Army during the Civil War. After being captured at Millliken's Bend, Louisiana, he was held prisoner of war at Cairo, lllinois. At the war's end, he returned home to his parents, George and Agnes Falke, and 1867 bought land in Fayette County. He opened a general store in 1874 and named the location Warda after the village of Wartha in Saxony. Falke also stands out in the Wendish community because he was one of the few Wends who held an elected political office. He was elected to the state legislature in 1894 and served in the 24th Session. He died in 1916 at the age of74.
In addition to the fertile soil near Rabbs Creek, Warda benefitted from its location near Lost Pines, an area of pine trees surrounded by deciduous trees. Pine lumber was desired for construction and Warda was home for several sawmills and a coffin builder. In 1884, it also had gristmills, cotton gins, general stores, a drug store, and at least one black smith, a wagon maker, a barber and a physician.
Warda was also significant in Wendish history in that it provided a place for second generation Wends and for newly arrived immigrants to get their start. Some new families put down their roots in Warda, but like Fedor, it was a temporary location for others. Many Warda families moved on to Winchester, Walburg, and to North Texas, around Vernon.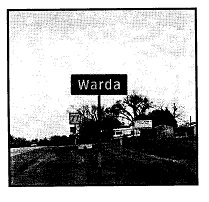 No comments