Monday 27 April 2015 at 03:52 am.
This article by Ray Spitzenberger first appeared in IMAGES for July 18, 2013, East Bernard Express, East Bernard, Texas.
Both sets of my grandparents were cotton farmers in Dime Box in the 1940's, just as most other farmers in the area were cotton farmers. Cotton was king! Even my father's job, working on the railroad, was related to cotton farming, since the bales were shipped by the Southern Pacific Railroad from a platform near the tracks in New Dime Box. In fact, the railroad was built to go through New Dime Box mainly for the purpose of shipping cotton, a development which caused Old Dime Box (one of the original settlements) to shrink in size and remain static throughout the rest of its history.
During my childhood (counting Old and New Dime Box as one town), there were 5 churches (two of them Lutheran), 4 beer joints, 2 grocery stores, 1 blacksmith shop, and 2 cotton gins. One gin was located in Old Dime Box, and one in New Dime Box, and during cotton harvest, both of them were the busiest places in town. The gin in Old Dime Box was owned by my Uncle Alton Zuelke's father, and the gin in New DB was owned by Lummus Hannes' father. Even though I knew both of these owners, time has erased their first names from my memory. Both gins had so much business they really weren't in competition with each other, but after my Uncle Alton died, the Old Dime Box gin closed down.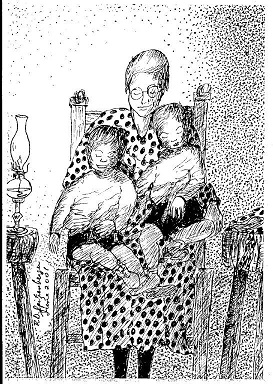 My twin brother and I were born in a little wooden house about a city block from the Hannes' gin. Since we were born in June, I don't think the gins were ginning yet when we came into this world. As I was growing up, I came to be much more familiar with the Zuelke gin, because both my aunt and uncle worked it. As a kid, I was excited about the dangerous mechanisms that corded, de-seeded and baled the cotton, going into sections of the gin where I was forbidden to go. Helping at the gin was a lot easier work than picking cotton by hand on my maternal grandparents' farm. I never picked even a handful of cotton on my paternal grandparents' farm, -- perhaps because that grandfather died and his youngest son ran the farm.
Dime Box was first settled by people with English surnames, like Brown, Smith, etc., -- you can see such names on the tombstones in the oldest cemetery in town (which was grown up with weeds and abandoned the last time I looked at it). No doubt the original cotton farms were cotton plantations, mapped out by the original Stephen F. Austin land grant. Vestiges of this are seen in the small farms in Beat Five owned by black descendants of former plantation slaves who were granted the land after the Civil War, and in remnants of plantation life. My great uncle at the turn of the century bought a small cotton farm, which, among other things, included a small slave quarters with a great grandson of a slave living in it. He became my great uncle's "hired hand."
As the original English-American settlers died, or moved away, German, Wendish, and Czech immigrants bought acreage which was divided up into smaller farms. Most of these farms were quite small, and farmers made only a few bales of cotton a year, barely making a living off them. These German, Wendish and Czech settlers were very hard-working and very frugal, and if anyone could make a successful life out of a little of nothing, they could. And they did, Great Depression notwithstanding.
In the 1800's, just about everybody had a hand in cotton farming, -- often, it was the only thing you could do to make any money. My great grandfather, who came from Germany to nearby Serbin in 1870, was a tailor by trade, but in pioneer land like Lee County, who was buying tailor-made suits? I often wondered why he didn't try to make denim overalls. He did make a living driving around the countryside in his buggy, selling books and yard brooms, but he had so many children, that that occupation didn't provide enough income. So, he, too, had to learn how to be a cotton farmer, and he did become fairly successful at it. He also made furniture, but so did everyone else. If everyone you know makes furniture, who are you going to sell a handmade bed to? The one thing you could sell was cotton, and to sell cotton, you had to grow it.
By the time I was ten, I knew everything there was to know about cotton, -- I knew how to plant it, to pick it, to hand-cord it, to gin it, and to load it on railroad cars. The very air we breathed during ginning time in Dime Box was laced with cotton fiber. It was so much a part of my life that when I used to tell my brother on-going, to-be-continued bed-time stories which I made up, they were about cotton. I even gave the series a name, "The Cotton Kids." Each night my mother would come into our bedroom and ask us if we wanted her to read a bedtime story to us, and my brother would reply immediately, "No, I want Raymond to tell his stories about 'The Cotton Kids.'" See, I've always been a story teller.
-0-
Ray Spitzenberger serves as pastor of St. Paul Lutheran Church in Wallis, after retiring from Wharton County Junior College, where he taught English and speech and served as chairman of Communications and Fine Arts for many years.
One comment