Tuesday 20 February 2018 at 12:44 am.
This article by Ray Spitzenberger first appeared in IMAGES for February 22, 2018, East Bernard Express, East Bernard, Texas.
As I sit down to write my column for this week, I am still thinking about the fact that we Americans are celebrating "Presidents' Day" today, and we will be observing George Washington's Birthday on Thursday when you will be reading this. Naturally, I had to check Wikipedia to make sure what Presidents' Day is all about. Wiki says it's the official day to recognize all of our Presidents, and especially our first one, George Washington.
For some reason I thought it was the combo birthdays of George Washington (born February 22, 1732), and Abraham Lincoln (born February 12, 1809), but I'm happy to celebrate all our Presidents, except for the ones who might have failed us in some way. I thought, well, at least we can honor those who have passed away. We can't go to Arlington National Cemetery to do that, because only two of our Presidents are buried there, -- William Howard Taft and John F. Kennedy. I had thought Woodrow Wilson was interred there also, but discovered he is buried in the National Cathedral in Washington, D.C. So there's no one place where we can go to honor all Presidents who have died.
Some of my friends on Facebook are remembering them by telling interesting stories or anecdotes about them. The most interesting anecdote was given by one of my cousins who posted that our 18th President, Ulysses S. Grant, was once given a $20 speeding ticket for riding his horse too fast down a Washington street. Many of the other stories told about our early Presidents are myths rather than facts, but I think that one is a fact.
As a theologian, a matter of interest to me is that John F. Kennedy was not only buried in Arlington National Cemetery, but is the only one interred there with an Eternal Flame near his grave. I'm inclined to interpret that as an affirmation of his Christian faith. One commentator, however, felt that his widow was so touched by the sight of the Eternal flame at the Arc de Triomphe in Paris she wanted one for Arlington. The flame or torch at the Arc de Triomphe was designed by Henri Favier and crafted by Edgar Brandt, and it was called The Flame of Remembrance, in honor of France's unknown soldiers who died in war.
Perhaps Mrs. Kennedy had the same idea in mind with regard to the one in Arlington.
There have been many flames or torches throughout history, including the torch held by the Statue of Liberty. Not all of them held a religious significance, however. Because President Kennedy was a devout Catholic, I like to think of his as the Eternal Flame, a Judeo-Christian symbol. Roman Catholics, Episcopalians, Lutherans, Jews, and some Methodists have an Eternal Flame hanging in the Chancel area of their churches and synagogues. It is called The Sanctuary Lamp, Chancel Lamp, Altar Lamp, Everlasting Light, and, of course, Eternal Flame, by these various religious groups. We have one in our church.
In both the Old Testament and the New Testament, God is referred to in various ways as a flame or a fire. In Malachi 3:2, Jesus is foreknown as a "refiner's fire." God appears to Moses as "flames of fire" in a bush in Exodus 3:2, and in Exodus 13:21, God appeared as "a pillar of fire" in the Wilderness. The emerging Christian church witnessed the Holy Spirit as "tongues of fire" above the heads of its leaders. And even God's Word was described as a "fire" in Jeremiah 5:14, and the people of Israel as the wood it consumed in their mouths. Those references seem to connect the Eternal Flame to God.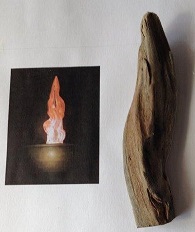 This morning, before I started writing my column, I was going through the rest of the driftwood my daughter sent a couple years ago, looking for an eye-catching lump to be used in some wood sculptures I wanted to do, when suddenly my eyes caught sight of a "this-is-it" piece! The small piece of driftwood looked very much like a glass sculpture created by David Ascalon and entitled "Ner Tamid" or "Sanctuary Lamp." I went to work on it immediately, hoping to produce a wood sculpture I could entitle "The Eternal Flame." It was at that point, I suddenly remembered I had to write a column! And so I did. And you just read it.
-0-
Ray Spitzenberger is a free-lance writer and artist who lives in East Bernard with his beautiful wife Peggy and spoiled cat Gatsby.
No comments