Monday 23 April 2018 at 9:17 pm.
This article by Ray Spitzenberger first appeared in IMAGES for April 19, 2018, East Bernard Express, East Bernard, Texas.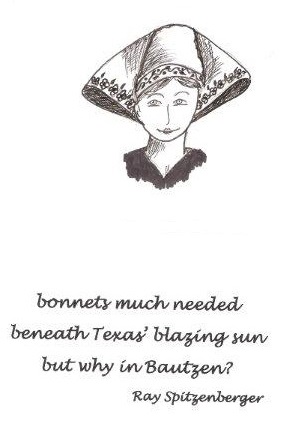 Throughout her life, my mother had a rather large collection of bonnets which she wore whenever she went out of doors. Although she made and wore many different bonnets, all of them were variations of three or four basic patterns, -- from simple to elaborate. Last year my youngest granddaughter wore one of Mama's bonnets for Costume Day at the school. Everybody thought it was funny-looking, but it was rather nostalgic to me.
Recently, I began working on my second book (no, my first book isn't out yet) that will consist of a collection of Haiga, a Haiga being a Haiku written beneath a pen and ink sketch or painting, a Haiku being a three-line poem of 17 syllables. The first Haiga is expressing the need for wearing a bonnet in the blazing Texas sun and bemusement over why Wendish women wore elaborate bonnets in Saxony.
It was pretty standard practice for pioneer women in America to wear what was usually called a sun bonnet, prairie bonnet, or pioneer bonnet, and for the men to wear hats, especially straw hats. But I couldn't understand why a lady had to wear a bonnet in Northeast Germany, especially an elaborate one. Before I could continue with my Haiga, I was compelled to do a little research.
The wearing of bonnets of one sort or the other was a widespread practice all over Europe by the 1600's. Before that, in the 1400's, a type of headscarf, held in place by a headband, was widely worn, and was no doubt the predecessor of the bonnet. In the 1300's, women wore rather ornate mesh hairnets. Men wore hats and caps but never bonnets.
My answer came as to why bonnets were worn in Bautzen when my research showed me how important the bonnet was to European women in the 1700's and the 1800's (when my great grandparents came to Texas from the Bautzen area). Upper class women wore bonnets both inside the house and outdoors, -- inside the house to keep the hair tidy, and outside to keep dust out of the hair and to protect the face from the sun. Even the hired women were expected to wear an indoors bonnet.
The lady of the house wore a very elegant, costly indoors bonnet, the housekeeper wore a less costly, but nice, bonnet, and the scullery maid wore a cheap "mop bonnet." Whether cooking, serving the table, or doing household chores, the maid would look neat and strands of her hair wouldn't fall into the salad. Over the years, the indoors bonnet became smaller for the lady of the house, and eventually looked like a large, lacy doily, tucked in, bonnet-like. But it was still considered a bonnet.
The English brought the bonnet to America when they settled here, and so did the rest of the European immigrants. However, the sun bonnet or prairie bonnet which evolved from the European bonnet, was rather unique to our country. Its purpose was not elegance or fashion, but to protect the woman from the heat and the sun and keep her face from getting tanned (this was long before women wanted a tan).
Wendish women in Lee County, Texas, like my ancestors, brought bonnet styles and patterns from the Old Country with them, and I suspect what happened was a synthesis or blending of the American prairie bonnet with the Old Country bonnet, the great need being protection from the blistering Texas sun. My mother learned bonnet-making from her mother, who learned it from her mother, etc., and one of Mama's bonnets was very much like the simpler Wendish bonnet worn in Saxony (it was not particularly protective of the Texas sun but it did keep your ears warm in the winter).
For my first Haiga, I spent several hours trying very hard to sketch one of those elaborate Wendish bonnets worn in Bautzen. They are still worn in Lusatia on festive occasions, and it looks like the women compete to see who can make the most elaborate head covering. My ancestors wore them, so I shouldn't be critical, but I think Texas Wends are wise to stay with prairie bonnets.
-0-
Ray Spitzenberger is a free-lance writer and artist who lives in East Bernard with his beautiful wife Peggy and spoiled cat Gatsby.
No comments