Monday 28 September 2015 at 02:43 am.
This article by Ray Spitzenberger first appeared in IMAGES for September 24, 2015, East Bernard Express, East Bernard, Texas.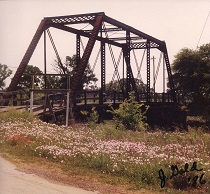 The American novelist, Thomas Wolfe, contended that "you can't go home again," a belief that is not true. Actually, you can go home again, -- it's just that when you get very old, you never get around to doing it. It's been a long time since I've been back to Dime Box! In fact, it's been so long that I did not know what happened to the old Black Bridge (also called Moses' Bridge) that used to be so thrilling to ride over in the bed of a pickup truck, with the Southern Pacific Railroad track lurking in the depths below (well, it seemed like a long way down to a kid). I knew it was gone; I saw that with my own eyes the last time I was in DB.
I always wondered what happened to it until recently when I saw an advertisement for the Dime Box Black Bridge Fest and Mini Marathon, to be held October 2 and 3, 2015. I wondered if you could have a Black Bridge Fest without the bridge. Of course, you can't, so I checked with several of my cousins, and found out where the famous old landmark was re-located. First, it was moved on to the SPJST property, which was not too far from the bridge. Then it was moved to an open area behind the Post Office, where it stands today. Since I haven't been there recently, I don't know whether this area is a village park or if it is a future site for a village park.
But, anyway, the Black Bridge has survived! I'm happy, because the old bridge meant a lot to me. It was built by the Southern Pacific Railroad in 1912, after the railroad came to town. When the newly built railroad tracks went through Asa P. Moses' property, splitting it, he insisted that the Southern Pacific build a bridge to connect the two halves of his estate. He must have been a man of great influence.
The old bridge meant a lot to me, because, first of all, my father worked most of his adult life for the Southern Pacific Railroad. I remember my father and other SP workers having to cut the Johnson grass that grew too tall and thick on the approach to the bridge. But, mainly, as a child, I remember it connecting the two "worlds" of Dime Box. The Czech Catholics, who were quite numerous, lived on the Caldwell side of Dime Box. During my childhood, the Catholic Church, including its cemetery, was located on that side of the town (even though today their Church is on "our" side of town). German and Wendish Lutherans lived on the Giddings side of the town.
As a child I wasn't sophisticated enough to think of it this way, but the Black Bridge was symbolic, in that it was the bridge between two cultures. Not that Catholics hated Lutherans, or vice versa, but, back in those days, there was a kind of feeling of "them" and "us." My generation was probably the last generation, as kids, to be told, "Lutheran don't marry Catholics," and "Catholics don't marry Lutherans." I don't know if we were forbidden to marry Baptists or not, but both my brother and I married Baptists. The Bridge is now gone and so are the restrictions.
If you took that road, which went in front of the SPJST Hall, went over the Black Bridge away from downtown Dime Box, curved around through farms owned by Czech Catholics (and maybe some Moravians), and kept going, you would pass the old St. Joseph Catholic Church and its cemetery in an area known as Hranice. Eventually, if you kept going, you would come out on the highway to Caldwell. I will always remember that old church, because when I got lost while enjoying a day of fishing with my family on Yegua Creek, I saw the church after going in a circle in the woods for hours. I knew where I was, and headed for the Caldwell highway. Only problem, I started walking toward Caldwell instead of back to Dime Box, but eventually was rescued by the mail carrier!
It's ironic that the Catholic church which "saved" me when I was lost in Czech Catholic wooded territory later located itself across the street from my grandparents' home, where it still stands today.
It's hard to believe that the Dime Box Black Bridge Fest was first held 41 years ago (how could the bridge be gone that long?). This October, it will be held once again, and there will be a mini-marathon, a barbecue cookoff, a parade, some craft and swap booths, classic cars, quilt displays, a tractor show, live music, team roping and street dances.
Drive on over to Dime Box. On October 2, there is a chili/soup supper at 6 p.m., a street dance, 42 tournament, and a Little Miss and Mr. Black Bridge contest. On October 3, the Mini-Marathon begins at 9 a.m., followed by food, fun, and games. And when you go, tell my cousins I sent you!
-0-
Ray Spitzenberger serves as pastor of St. Paul Lutheran Church in Wallis, after retiring from Wharton County Junior College, where he taught English and speech and served as chairman of Communications and Fine Arts for many years.
One comment