Slavic Protestants in Exile:
The Exulanten in Saxony
Produced and Edited by Weldon Mersiovsky
Five Centuries: the Wends and the Reformation
Produced by The Wendish Press and Concordia University Press
Texas Wendish Heritage Society
Witajcže K'nam
Family History Workshops
Want to learn more about how to research your family's history? Family History Workshops will be held at the museum in Serbin on May 18, August 17, and November 16. The workshops are held from 9:00am to 4:00pm.
Weldon Mersiovsky will be on hand to assist with your research and answer all your questions. The registration fee is $15 per person or $25 per couple, which will be used to increase the museum's family history holdings and genealogy resources. Bring a printed copy of your family pedigree chart (if you have one), a sack lunch, and your laptop (if you have one). Please contact Weldon Mersiovsky at (512) 863-6418 or the museum to reserve your spot.
The Absalom Delaplain League

In December 1854, Pastor John Kilian and the Wends who had called him as their pastor arrived in Galveston, Texas. Three more months would pass before they were able to acquire land, though. After a hard winter in Houston, the group finally received ownership of the Absalom Delaplain League in what is modern-day Lee County on March 20, 1855. Click below to learn more about the Delaplain League and its history. Copies of the map shown are also available for purchase from the Texas Government Land Office.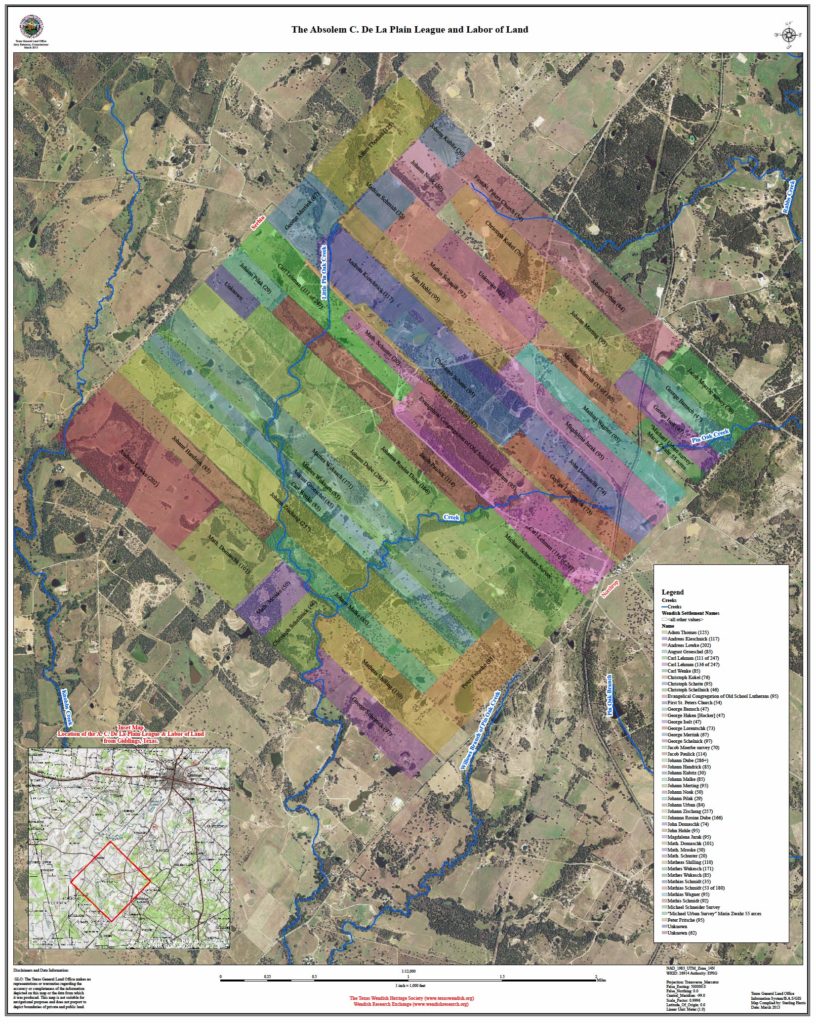 News
The Rev. Dr. Elmer Hohle provides the Lord's Prayer at the 2018 Wendish Festival in Serbin. In Wendish, German, and English. What a magical moment for all of us! Thank you, Kari Kooi, for providing this video. Also, read more about this fantastic man's works. He is truly a Texas Wendish treasure.

Birth Notices are now being added in the Lee County Scrapbook.

Wolsch – Kneschk Family History has been added to the Forum. Over 30 years of "A Search For August" Wolsch. Read this remarkable writeup of Wendish family history. Yours may well be similar!

Iselt, Patschke, Kieschnik, and Wuensche are being updated in Genealogy.
Introduction
History: Contains links to several excellent web sites and works which provide background information regarding who the Wends are. Some are summaries, while others go into great detail on various historical topics. Feel free to email us to suggest other links. Our focus is described in our mission statement.
Hot Projects/Topics: Featured Projects and Topics. May include "opportunities" for those who would like to assist. Be sure to visit this area!
TWHS: The Texas Wendish Heritage Society. The Wendish Research Exchange is an organization within the TWHS. Includes a physical museum, library, and gift shop. Visit this link to learn more.
Genealogy: Interactive web application, with future additions planned. Be sure to not only visit, but participate. You may view some of the data, but the best functionality is reserved for TWHS members. So osign-up! It may take several days to provide fully registered accounts. Please be patient – it is worth the wait!
Forum: A collaborative area for gathering and sharing data and input. Also for publicly defining projects and organizing resources. Discussions of Wendish families, history, and other research topics. Ask and answer questions here.
Wend Blogs: Typically structured as one person or group writing articles, with public responses and discussion welcomed. There will be multiple Wend Blogs.
Susanna Dickinson
Laura Luna joined Warren Friedrich in presenting a glimpse into the lives of Susanna Dickinson and her husband, Joseph Hannig. Click here to view this video.

Post Civil War Reconstruction
by Ken Kesselus
Bastrop and the town to the East known as Serbin. Click here to learn more!
The New York Times on Being Wendish
The New York Times recently published an article featuring the Texas Wendish Heritage Society. This article, written by Corrie MacLaggan for The Texas Tribune, is entitled The Joys of Being Wendish, Festival and All. Several festival attendees are interviewed, including Evelyn Buchhorn, Russell Schwausch, Dwight Nitsche, George Nielsen, Charles Wukasch, Weldon Mersiovsky, and David Goeke. This appeared in the 10/11/13 edition of The New York Times.
The Texas Country Reporter produced an excellent video segment for their show when visiting Wendish Festival the 4th Sunday in September of 2014. Join TCR host Bob Phillips as he meets with Hattie Schautschick to learn about Wendish noodle making. Hattie, and Jack Wiederhold, also provide a glimpse into the reasons for Serbin being Serbin. A stroll into the St. Paul cemetery. The history of families leaving everything they had in Prussia behind for an opportunity to escape religious and economic oppression. The celebration that is Wendish Festival. View the video here. We thank the Texas Country Reporter, and encourage you to also visit their website.
Welcome to the grand opening of what will be a perpetual work in progress, with your participation welcomed and appreciated! As you explore Wendishresearch.org, think of it as a meeting place of researchers who are invited to share and obtain information regarding their heritage and history. A framework to guide you in your research goals, whether they be genealogical, historical, events, or any other pursuit of knowledge.
Our heartfelt thanks go to all who have made this effort possible. Key supporters and contributors to date include:
Richard Gruetzner
Weldon & Jean Mersiovsky
Kathe Richards
Dan & Suzanna Carter
Tonya Zoch-Hettler
Dr. George Nielsen
Bill and Steffi Biar
Rev. Dr. Elmer Hohle
Bob & Pat Proft
Bill Schkade
John & Margaret White
Steve Weise
Dave Goeke
Russell Schwausch
Sylvia Chase-Meadows
Marlene Magness
… and an ever growing list of other volunteers who are about to become involved in many aspects of recording and documenting the history of the Wends. All are welcome to join the Wendish Research Exchange, regardless of your place of residence. Telling the stories of the Wends, for use by current and future individuals who have and shall have an interest, is something that many of us can do… worldwide. Thank you for visiting with us today. Enjoy!