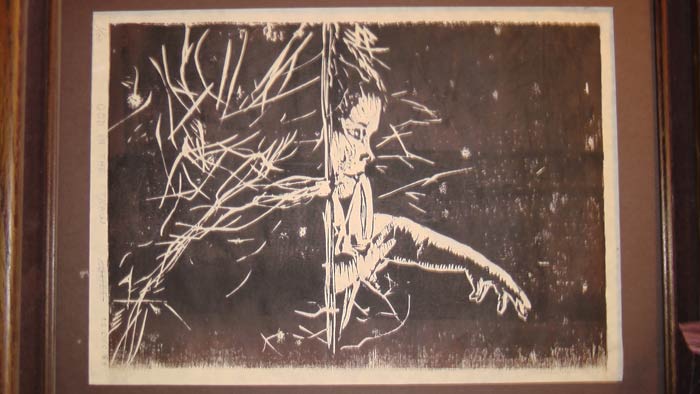 I saw a little picture of a child in a cradle and on Dec. 12, 1984, I hastily sketched lying in straw onto a board, carved it out, rolled some brown SPEEDBALL oil ink on with one roller, and black ink with a second roller; then with a tablespoon rubbed it off onto the sheets that I printed....never did 100. Then I gave it the title: GOD IN THE STRAW.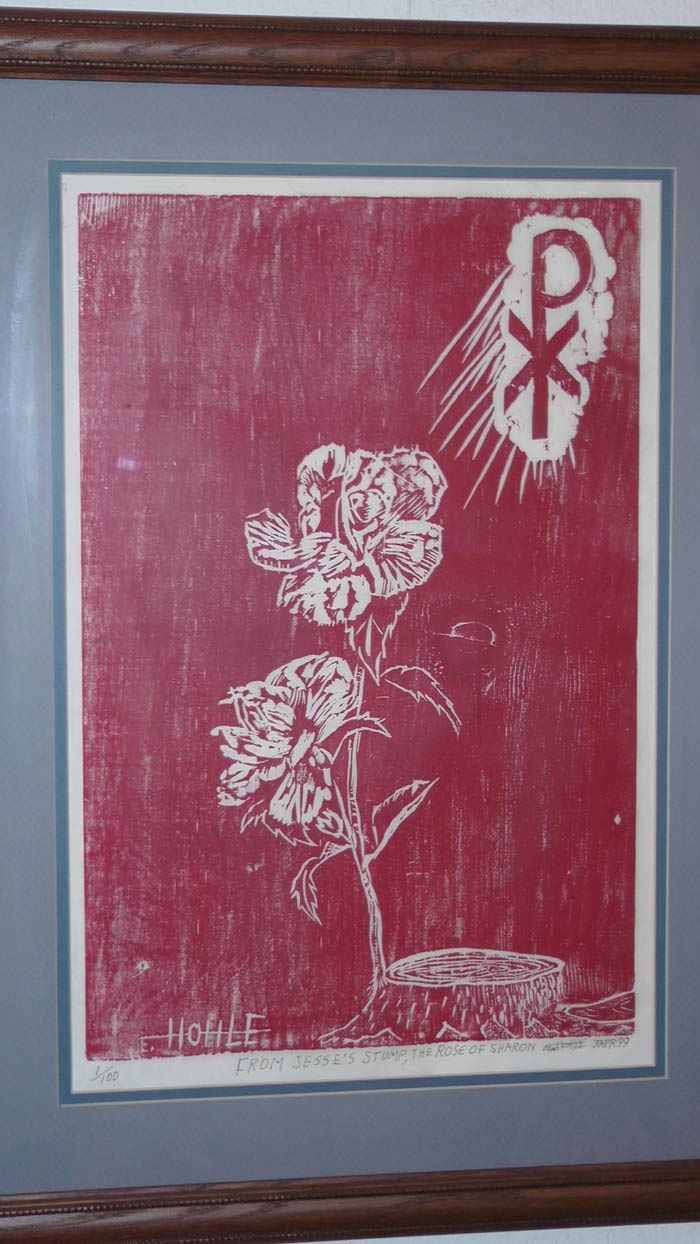 I saw a nice board in my garage in the Spring of '99, and immediately planned to do it up for another Concordia Christmas card. Then I noticed that it was not so perfect because it had knots in the lower right hand corner - they're difficult to carve. So immediately I was inspired to carve it as a stump as I thought of Jesse's stump... then I looked at a picture of a rose of Sharon --- the rest is history.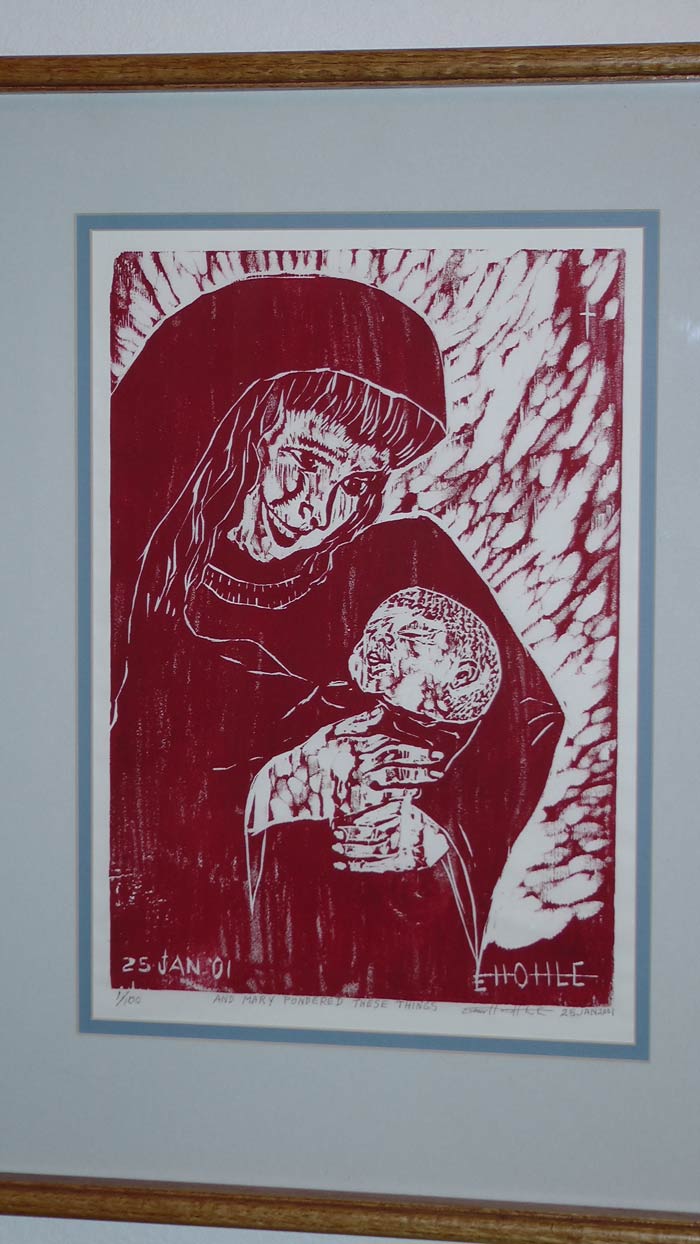 When Dr. Dave Zersen came to Concordia University in Austin, he saw one of my woodblock prints in the classroom hallways, asked who did them, and then called me for permission to put it on his CUA Christmas card. I then began doing more Christmas ones, which he then used. The one above was inspired by a photo I had of my granddaughter Audrey - as a little child - adoringly holding a doll in her arms and simultaneously lovingly look at
and past
the doll. From that photo I sketched her into a teenage mother, and in her arms I sketched from a photo of her baby brother sleeping when he was an infant. Dr. Zersen used it on his 2001 Christmas card.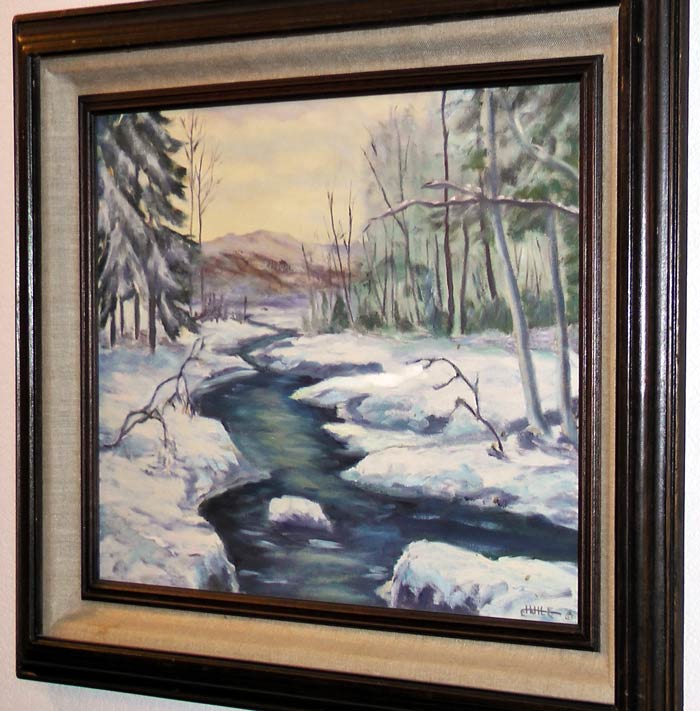 I painted this from a photo.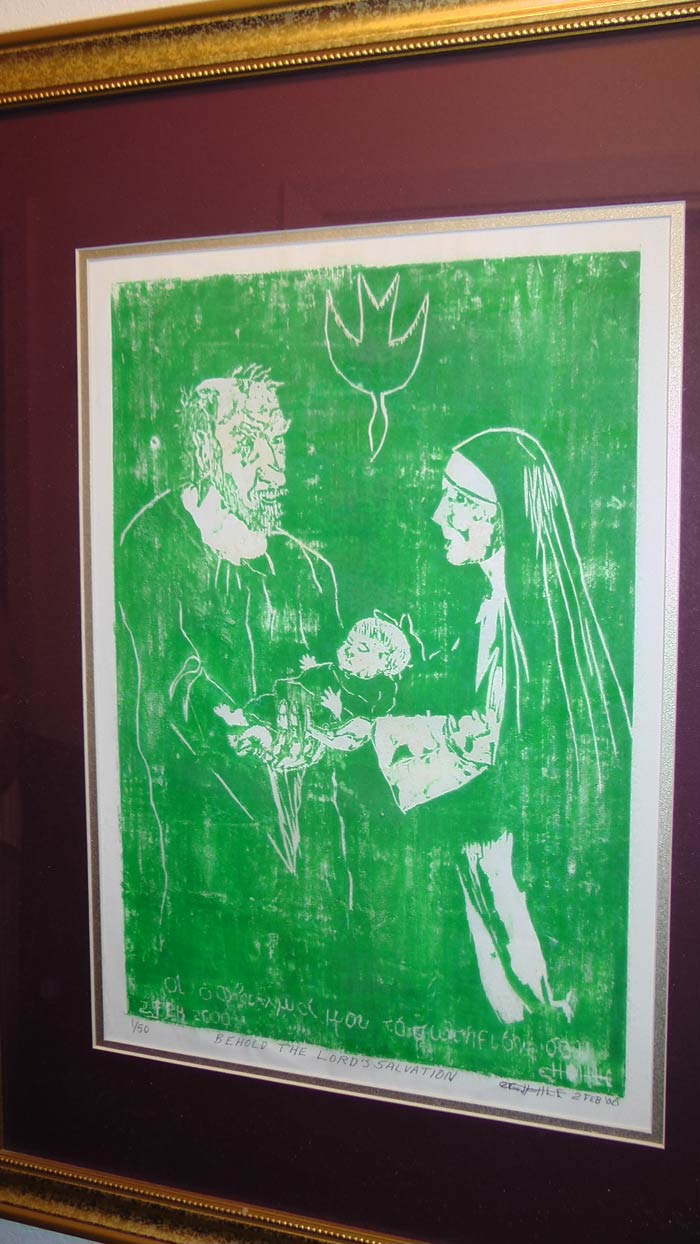 Visiting my father and mother back in 1989 near The Grove, TX, I sat at their table and on a slip of paper I sketched myself at age 91. In 2000 I found that sketch and thought of Simeon and what he said in Luke 2:30 ("because my eyes have seen Your salvation.", when Mary and Joseph brought the baby Jesus to the temple. So I sketched him as Simeon, sketched Mary and baby Jesus from imagination, and then
backwards
carved Luke 2:30 in Greek... also used by Zersen.
I carved Jesus and the chalice one morning after getting up; then every day for the next 12 days (skip the Sunday in between) I did 1 face every morning, using as my model people from pictures in the newspaper.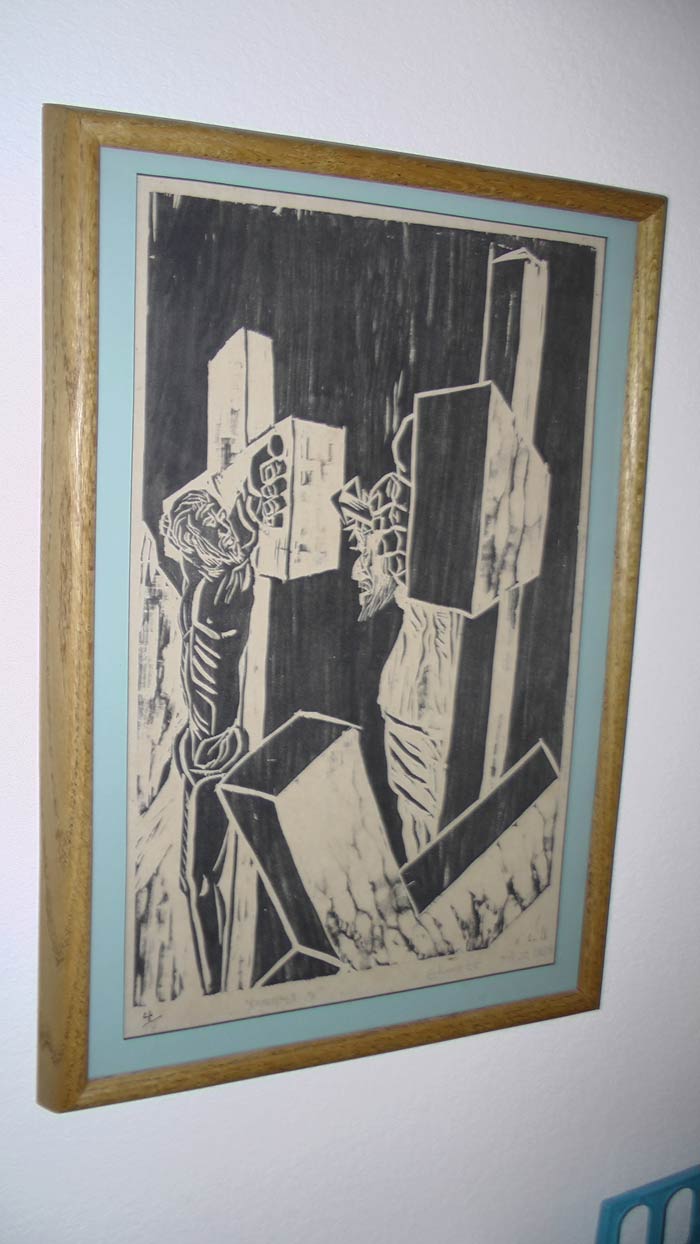 This is the first woodblock print I ever did. I had enrolled in a two hour spring semester graphic arts course at Odessa Junior College in 1968. In the first class session the art professor briefly demonstrated how to do wood block prints, then assigned each of us to do one and have it ready the following week. On my Monday-day-off as pastor of Redeemer Lutheran, I was in the garage and was trying to nail another board, when I accidently hit my right thumb. Ouch! it hurt! I had on the tip of my tongue to say a bad word - and instantly thought: "No! don't say that...just think how Jesus suffered on that cruel cross to pay the debt of your sins! Just think how His thumb on that nail pierced hand must have hurt!" That thumb inspired this picture. And the following day I took it to class. The professor had the students and me put them on the blackboard eraser shelf. He arranged them by grade - placing mine first, and sliding all the rest down the black board, and then he called in the other Art professor to come look at it too. It was a humbling, awesome experience.... that was the graphic art I then pursued on my 'days off'.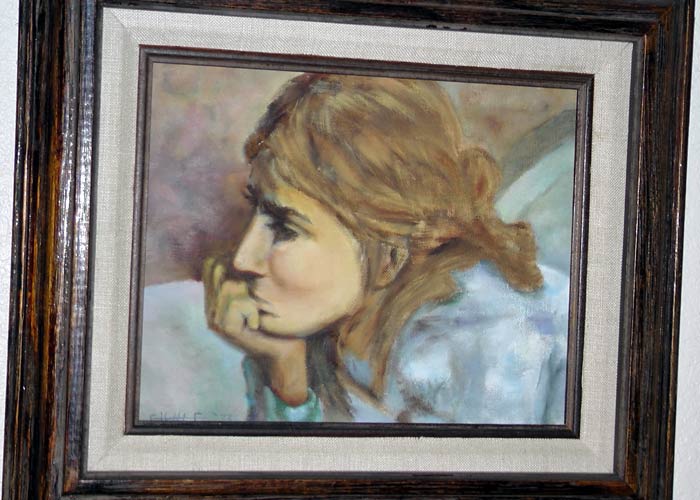 I did this painting from a little photo in about 1 hour.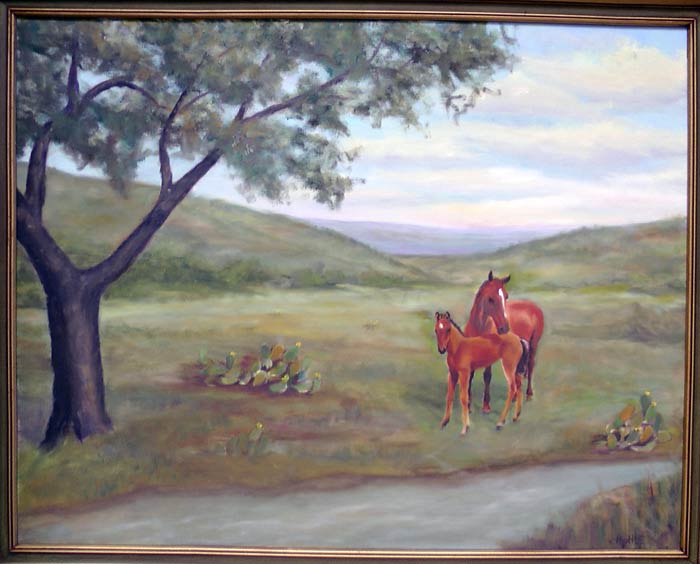 As a little boy I was riding horses at age 5. Painted from imagination.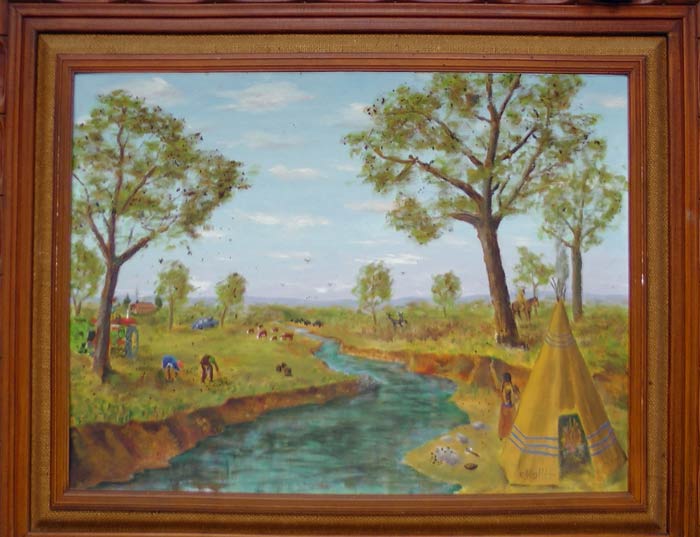 My sainted oldest brother had farmed down by the Leon river below where old farm house used to stand; he also grafted lots of pecans on the farm. He found an Indian arrowhead made of flint rock down there. He would shake the pecan trees and my aged mother and father would pick up the pecans. So I did this painting for him to capture both historical sides of the river banks. When he passed away with no descendants, I was fortunate to have all my older siblings give back this painting AND THE ARROW HEAD.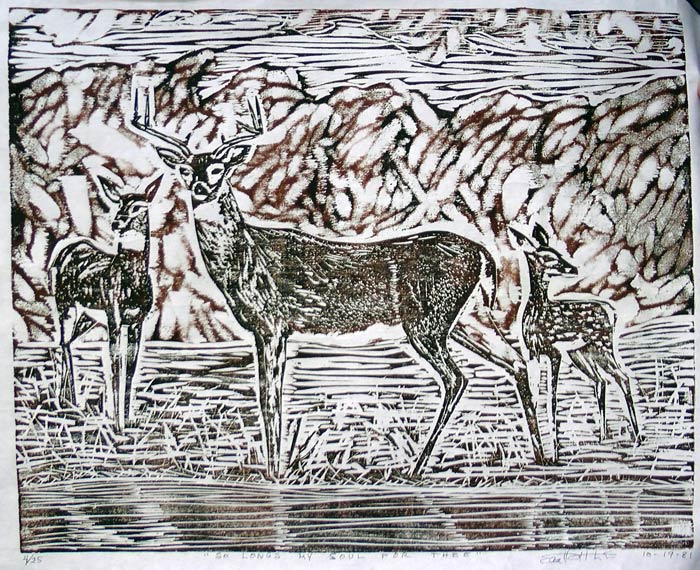 In 1984, as my oldest brother took me along on deer hunts, Mrs. Janeatte Schaefer offered to make me a free deer feeder if I would cut a woodblock about deer and let her have the woodblock after I made my 25 prints. So I again found my Scriptural theme in Psalm 42:1.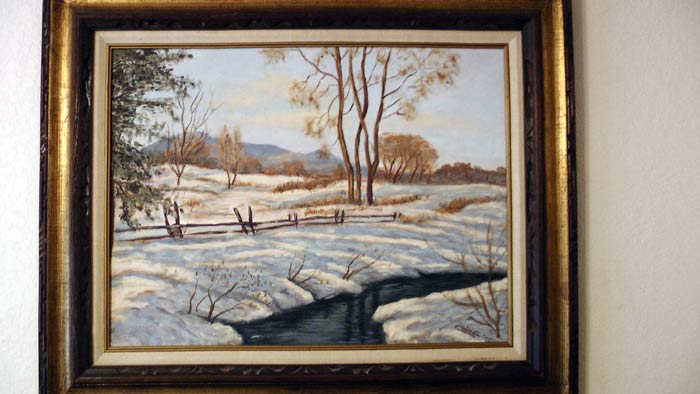 I did this one from a photo of another person's painting.
In 2001 I was blessed to have CPH publish my translation of "Ein Jahr mit Jesus". While she still was in grade school, my truly artistic gifted only granddaughter Audrey Woodson colored this from the cover of that paperback book, plus some Jesus and cross portrayals.